If you are a Beginner, come learn how to Stand Up Paddle with us.
Join our SUP School, it's Tons of FUN!
Our qualified instructors will teach you everything you need to know, from safety and etiquette to flatwater paddling and wave surfing techniques.
Our knowledgeable local instructors will deliver personalized Stand Up Paddle lessons at some of the best Learn to Paddle and Learn to Paddle-Surf spots in the World.
There are many surf camps and schools, but if it is Stand Up Paddle that you want to learn, we are THE SUP Camp and SUP surfing School that you are looking for.
We are the best at what we do.
And what we do is Stand Up Paddle Surfing in Costa Rica.
For the Intermediate SUPer, our Guide/Instructors will coach you and help you achieve a more satisfying experience. Our coaching will take you to your next performance level.

If you are Experienced in Flatwater only, lakes, canals or rivers, we will show you the ways of the Ocean in a progressive manner. In stunningly beautiful Beaches we will teach you to Surf that Paddle Board!
When it comes to SUP surfing Costa Rica, we feel we are the most knowledgeable company. We offer the best accommodations, activities and adventure travel experience.
For Intermediate and Advanced SUPers, we provide guided SUP Adventure Tours to different SUP surfing spots, Outer Reefs, and/or Flatwater Bays and Islands.

If YOU are ready for the Real waves, we have the knowledge, the means and the toys.
Our local instructor/guides will take you to the best breaking SUP surf spots daily. Overhead perfection, peaks, lefts and rights in warm, tropical 80 degree waters.
Really!!! Daily!!! What are you waiting for?
Come and get it before it gets crowded. We are experts in this territory and welcome you to share it with us.
Stand Up Paddle is what we do!
We are passionate about SUP surfing!
We love to teach it, coach and share our awesome surf and paddle spots with You. By boat or by land we will take you there. We know the waves, the reefs, the channels, the tides, the perfect point breaks and beach breaks. We also know the protected bays and their beaches, the islands, and the estuaries. We grew up surfing Costa Rica and chose Tamarindo and it's surrounding beaches, because they are fantastic.
Tamarindo has some ideal "Learn to Paddle Surf" waves and has great "Flatwater Learn to Paddle" areas, it is also very close to naturally protected bays, beaches and islands. There are at least 8 wave spots and a couple of wicked outer reefs within Tamarindo Beach itself. And it doesn't mean you will be SUP surfing here only, we are about 25 minutes away from Avellanas or Playa Grande and 10 minutes from Langosta.
Playa Negra, Junquillal, Marbella, Brasilito, Conchal, Danta and Potrero are some other beaches we go have fun at, plus many other spots we prefer not to mention, and breaks that don't even have a name yet. We will also paddle board to beautiful, unspoiled Islands where you can enjoy the pristine marine environment that surrounds them.
Come check it out!
Let's have some mind blowing Costa Rica Stand Up Paddle Adventures!

Most of us here started as surfers, and good surfers we still are, but we have been stung by the SUP bug and definitely caught the fever. Stand Up Paddling is now our preference and our passion, whether we do Flatwater or SUP surf. We live to explore and paddle surf all of this awesome new territory that has opened up to us by SUPing, we now paddle-surf points we never surfed before.
So if you are a paddle boarder or wish to learn, and your friends are surfers and want to join us, we welcome them in our adventures; we are every bit as knowledgeable about surfing. I have surfed for 35 years, won Costa Rican surfing championships in '82 and '83, enjoyed surfing Hawaii, California, Florida, Peru, Chile, Bahamas, Puerto Rico, Guatemala, El Salvador, Nicaragua, and Panama.
In Costa Rica it is summer all year round! We enjoy tropical weather and 80 degree water most days, no wet suits needed. Sunblock and hats are what you will need and we will supply short or long sleeved rash guards to protect you from the sun. We have Dry Summer from Dec.. through mid-May) and wet, or as we prefer to call it, Green Summer, from mid-May through Dec..
We get waves pretty much all year round with very few flat spells. Some flat spells do happen though, it's the Ocean, it can get moody but the norm is about 25 days of waves a month, ranging from 4 to 10 feet (Costa Rican feet, bigger than Floridian, smaller than Hawaiian, very close to Californian; you figure it out!). Even what we call flat spells are around 3 feet at most breaks, and 3 to 5 feet at stand-out breaks.
I really believe that when it comes to SUP adventures, lessons, coaching and guiding in Costa Rica, we are the best and the most knowledgeable.
Marco Salazar, co-founder CRSUPAdv.
Pura Vida!!! Hope you join us soon.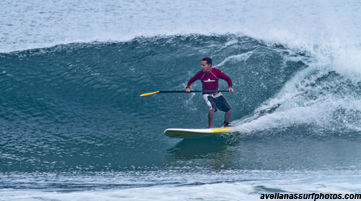 Marco Salazar, founder of CRSUPAdv
SUP Surfing Perfect Right.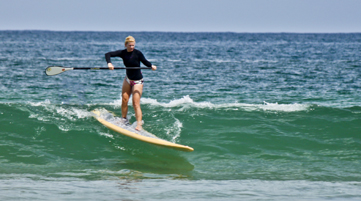 Lydia Beech de Salazar, SUP Surfing small, Super Fun Tamarindo waves back in 2011.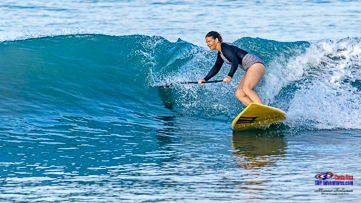 Lydia Beech de Salazar, SUP Surfing small, Super Fun Tamarindo waves now in 2017.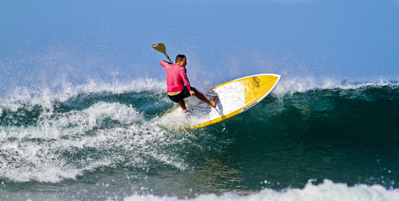 Tomás Casas, my friend, my cousin, and all around Costa Rican Waterman.
SUP Surfing a great Guanacaste wave with a Naish 8'5 Hokua SUP board. Pura vida!!!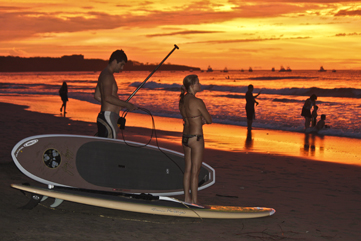 Awesome Sunset after SUP surfing Tamarindo.


Yes, we are passionate about SUP surfing!